Name of Partner: 4A1L 0001
Callsign: Terminator
Health:150 HP
Weapon: a=dual Tomahawk
Power: Metal Control - 4A1L has a psy-chip in his left hand which lets him bend metal to his will. He can create a shield for a limited time.
Personality: I'm still working on that.
History: The history of 0001 is mostly on the drawing board but he has been in testing a little. The tests tested his speed, strength and agility. The strength tests helped us choose the weapon he exceled at using. The speed tests helped us choose the lightest but strongest metal to build him with. The agility tests, the most important of the tests, help us determined how fast his reflexes are and if we needed to add wings which he obviously didn't need.
(Above - uncloaked)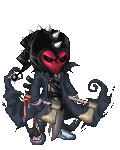 (above - Cloaked)